Hello all, this is my work log for my 94 mx-3 GS.
This project started in 2008
Colours:
Own/Done
,Planned
Exterior:
p205/35R18 Falken Directional Tires
18inch Motegi MDL DP12 Chrome Alloy Rims
Custom body kit.
Custom Made Fibreglass nostril 4 Pin Hood
Carbon Fibre Tail Lights
Custom 2 tone Paint job (Artic White W/Deep Blue)
Shaved Antenna
Rear Wiper Shaved
H.I.D's 1000000K
Full Body Under glow
Custom blue L.E.D Lights under The Door Handles outside
Interior:
Momo Steering Wheel
Momo Shift Knob
MazdaSpeed Racing Seats 4-point harness
Custom Door Inlay
Custom Headliner
Deleted back seats
Custom 6 Cubic Foot Sub Enclosure
Custom white Strobe Lights In The Sub Wall
Alarm
Carbon Fibre E-Break
Custom LED lights Under the Dash
blue indiglo gauge
Suspension/Other
Reactive Front And Rear Stabilizer Bars
Tokico Struts The Famous "Blues"
Apex Lowering Springs 1.7inch Drop
Drilled And Crossed Rotors
5 Lug Conversion
Extra set of KYB struts
Adjustable coilover
Brembo Brake kit
Engine/Other
Engine Swap To The KLZE 2.5l V6 (matching J-Spec # KL-101, KL-1A1)
Walbro 255L/HR Fuel Pump
Larger Injectors
KL36 ECU Chipped Computer
Cold Air Intake With K&N Air Filter
Outlaw Engineering Throttle Body Spacer
Outlaw engineering Intake Manifold Spacer
EXEDY Stage 2 racing Clutch Kit
B&M Short Throw Shift
2.5" Pip With High Flow Catalytic Converter Attached To Reactive Muffler
SS Headers
KL31 Cams
Have a 2nd ZE engine that is getting rebuilt this winter. Will be ported polished, honed, butterfly knife edged,65mm Throttle body lightly polished to match the intake manifold,Shaved Heads,Valve job,Polished Combustion Chambers,PortedKL31 Intake,New Pistons ( not sure what ones to use, any suggestions?),KLG4 Crank,Unorthodox Under drive Pulley,energy suspension engine mounts
Engine Bay Cleanup:
Powder Coated Blue Valve Covers/ White Fuel Rails/ Polished KLZE Lettering
Complete engine bay painted, Thinking Checker Flag design ( Black N White any suggestions?
Engine Dress kit
Audio:
3000 Watts all together right now
2 Kicker L5 Solor Baric Sub's 1500 Watts each
2 Hifonic HFI10000 Amps, Hooked Up As 1ohm Pumping Out The True 1000Watts
6 Mid Tweeters Under The Sub wall
3inch Dvd/Cd Player
2 6x5 Sony Explodes 295 Watts Per Speaker
2 Mid Range Tweeters sunk in the wall
Debating if I want a small TV back in the back again
Things that have changed
Re-painted to a Lamborghini Pearl Blue aka TV2
Removed Alarm, Lost keys
Removed 6x9 speakers in the rear
Delete under glow
Strobe Lights In The Sub Wall
lights Under the Dash. Taking some wire weight off the car
Blew the 3inch Dvd/Cd Player.
2 T.V`s in the rear are deleted
So, now the story that got the car to where it is today.
at the end of 2010 the car was the 2 tone White & Blue everything was going good was doing some small add-ons to the car, then about 1 month before I put it in the garage for the winter I was on my way home, and I heard some weird noises coming from the car not to sure what it was I pulled into a drive way that was kind of on a hill not a lot but enough to allow the car to roll back ( bad idea) so as I was putting the car parking the car my brakes gave out on me, the back end rolled over a curb and ripped the back bumper off only on the drivers side, and the front drivers side fender and some of the side skirt up to this moment anything that has been done to this car work wise I have done, it has never been to a shop. Once the accident happened I never had time to do the work myself, so I decided to go auto body shopping so I called a few places and of course they were going to be expensive, Then I found one that would do it for a fair price which was written on the contract for $2200.00 that was to fix the repair and repaint. So I hauled the car down to this shop which was an hour and a half away. They had my car about 2-3 weeks I went down and paid them $800 nothing was done to the car not even a sand paper mark on the car. So I thought well maybe their busy with other stuff, so another 3 weeks go by and I drop by and drop another $300 off to them and they were just now starting to work on the fender. about a month goes by and I drop in to give another payment of $600 and I notice that the plastic piece on the side of the car inside was broke, so I confronted them about the damage they tried to give me some bulls--- story about they needed to take it off to sand and paint the car, I then informed them that they will be replacing or fixing that damaged they agreed. another month goes by drop another $350 to them I then noticed that my seat was ripped ( took pictures of the car before the car went to the shop) confronted them about it, they tried saying it was normal wear but agreed to fix it. so about 2 weeks goes by and I go down at this point I owe them $150 so I never paid it, I wasn't dropping any more money until I seen some progress. ( now some of the time frame I have listed may be off) but at this point it was around 6 months that they had the car and no work has been done except damaging the car. that was the last time I went down to see the car, so I was waiting and waiting at this time they've had the car for almost a year now, so I go down there with contract, receipts in hand hoping my car would be finished I got a big surprise. the car was sanded down a little bit with some 80grit and 320 grit. they started to tape the car off and started to tell me that it was ready for paint. The car was full of high & low spots the hood wasn't fixed nor had primer on it, either did the car the fender wasn't on correct it was on side ways believe it or not! so im down there fighting with these people saying look ive paid $2050 and you've done nothing with my car. So I told them its done your not getting the $150 left owing on the car and im taking my car home at this time its been a year since they've had my car in their shop, they fought with me saying I wasn't getting my car back, the shop emailed,text,and called me ample of times saying that they were going to dismantle my car because I owe them $150, I said look I've paid you people $2050 and you've done nothing with my car if I come down there and pay the $150 will you release my ride to me they agreed and told me to come get my car, so I go down there pay them $150 and they refused to give my car to me. They handed me papers saying that I owed them an extra $1600 for calling a 3rd party to come to their shop and realign the fender that they couldn't do I guess. I called the local police and showed them all the papers but they said there was nothing they could do about it so I had to leave my car there, this went on for another 6-7 months. So I started to go public with this matter they called me at home and said if I removed the comments from the public sites and ratings etc that they would give my car back to me. So I agreed and said fine just give me my car back, I went down there twice with a dolly and they refused to give me my car both times. they called me one and said if you don't have $1600 by the 14th of june they will be going to the court house and trying to take ownership of my car at the time I didn't know they couldn't do that, so I was flipping and saying s--- im losing my car, So I went to the court house drew up small claims court papers and informed them what they were doing, I think the best news I ever got that year was when the lawyer said they couldn't just take ownership they would have to proof that I owe them money and they would have to take me to court to get my car for good. So I went down there and served them court papers. 1 week after I served them, they called me and told me to come get my car. When I got down there, my car was sitting beside a big blue trash bucket with my doors off ontop of the bin, bumper was inside the bin, and the car was completely destroyed. So I loaded the car up and drove right to a body shop where I live to get a quote on how much damage was done in the "professional eyes" I asked if there was $3000 worth of work on my car he laughed his a-- off and said not even close maybe 10 hours of sanding was done, he said there was about $4000 in damages that they created so a job that was $2200 was now quoted to around $6500 to get my car done and back driving. So the car was off the road for pretty close to 3 years. I went to court and the judge told me I didn't have a good enough case to fight and tossed my case out! at this point I was out $3200. when I went down to pick up my car they charged $200 for "storage". So I said whatever I learned my lession I guess, so the car sat in my garage for about 3 months while I figured out where to start to try and get this project going. So I contacted the wife's uncle he has his own body shop and I took the car to him, and we worked on it together, took a year to get it back to where it is today and still doing some work on it. there was over 1400 hours of sanding alone to fix the car from what they done. With that being said close to 3 years later I spent $5500 to get the car done and finished to the point where I could put it back on the road and enjoy it! So I decided to go with a Lamborghini pearl blue ( if interested paint code is TV2) its a transparent colour which means its a 3 stage colour, after primer it needed to have a base coat silver, then the blue which makes it have a in depth look to it. So now I am enjoying the car again and continuing to work on it and add things to it. 5 years ago I had the car appraised at $6500. which needs to be redone im hoping it will be appraised more then that now, with everything that has changed and been added to the car since then. I still have every receipt contract and paper from the body shop and court house I guess there is a 5 year open window if I ever want to try and fight the case again. Which trust me I have thought about ample of times. but sometimes I think its better just to move on and learn from the bad. So now I am back to doing everything by my hand only. I will make time next time something like this happens, the car will never go back to any shop ever again regardless if its a body shop, or for engine work! The pictures of the car sanded down with the white paint, and blue paper, and blue fender is how I found my car when I went to pick it up from them.( in case anyone is wondering who the body shop was, they are called Body Shop Benjamin Clement out of Kingston Ontario, Canada)
With that, I say, My MX-3 is nothing without me, and I am nothing without my MX-3.
THE CAR NOW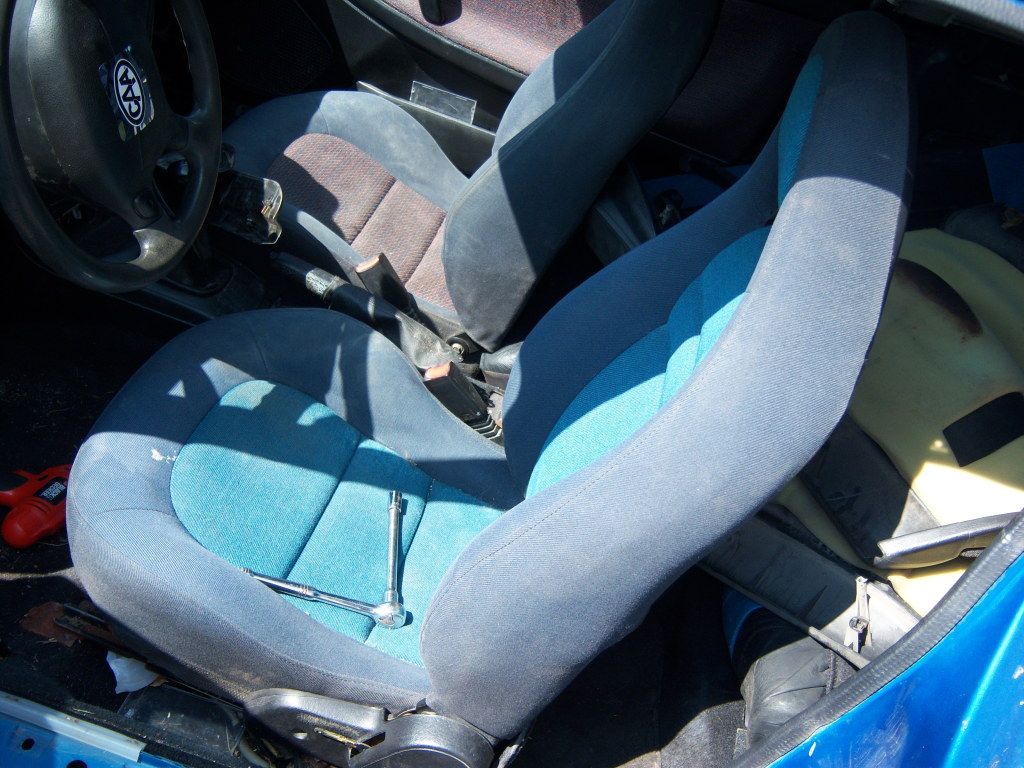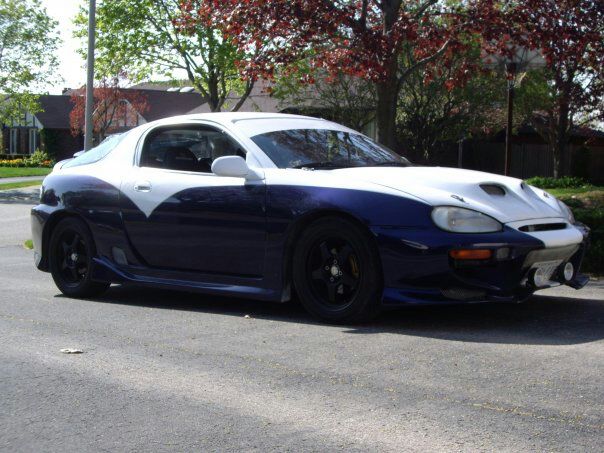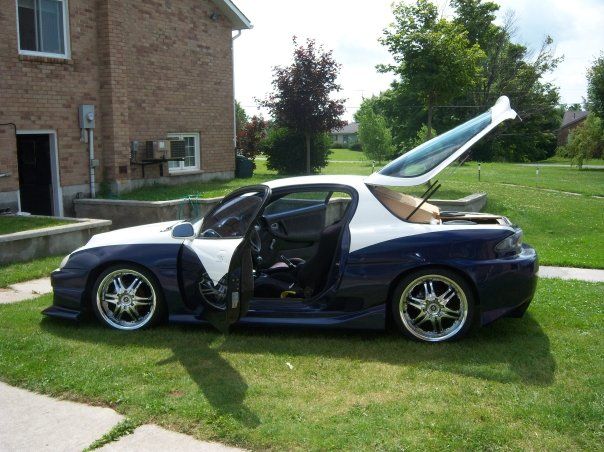 Will keep this updated as I still go