.Cole's GS ZE Swap (Car Sold) 1982 blazer project now.
hey, k well thought its about time i make one of these, already half way done my swap. idunno exactly how these things work, but i see people list parts then post pictures, so i guess thats what ill do.
Well the mx-3 is Sold.
i had SOOO much fun building and driving that car. gunna miss bruising ego in that little beast. still mine for 2 weeks but only 2/3 of it is mine. haha. Ill still stick around on the website and what not. You guys are cool cats and are always willing to pass along some knowledge when its needed. Hopefully the new owner comes onto this site, he was a pretty straight up guy. has a major love for mx-3s.
Part's (
green owned
,
Red need
)
GENUINE 2.5L KLZE 21,823km's on motor.
Curve Neck Milennia IM(Thanks to Glen/Sleeper6)
KL36 ecu + JE50 VAF.
Pacesetter headers+Y pipe
2.5" Aluminized piping with a 14" cherry bomb resonator Flow master 40 series muffler and a 3" tip.
AWR mounts
99' Acura Integra CIA+K&N filter(anyone who see's this and doesnt have a k&n, GO BUY ONE! even a drop in for ur stock system it perks up the 1.8s)
Stage 2 Centerforce Dual friction clutch for a Mx-6
10.2MM NGK plug wires + 4cylinder Ford Probe NGK plugs
HEI Module + MSD Blaster 2 coil and KLZE disty
Dip Stick for KLZE
B&M Short shift(BUYING PACESETTER if anyone has one for sale, or knows where to get ahold of one)
Eibach Prokit Lowering Springs
KYB-GR2 struts
Kumo Ecsta rubber
Stock GS 15's painted black
Tinted Markers, Signals, Tail lights
Halo Projector headlights
2500 watt Exile amp + 500 watt alpine v power amp
2 10" pioneer's in seperate bassworx boxes
4 1/2" alpine type s front door speakers/ 6 1/2" 90s blue cone alpines
Dunno what else is in there, if i missed anything ill add it in as i go along.
Here's some picture's. Sorta slackin on the picture's but its because i vacuumed up my phone cord for my computer
.
The day i bought my Very first Mx-3!!!! it had a cooked auto tranny(reason for trailer)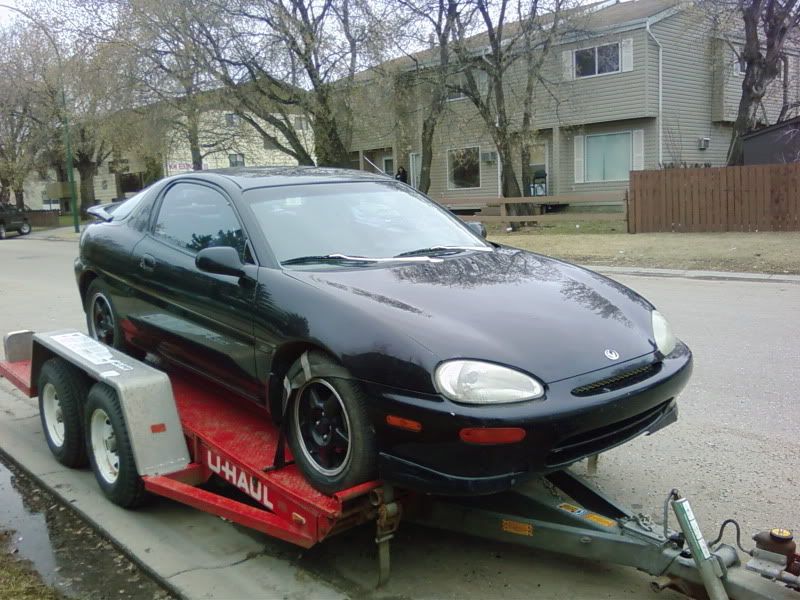 Doing the ATX to MTX swap
Finally on the road after the ATX-MTX swap.
Ripping out the fried k8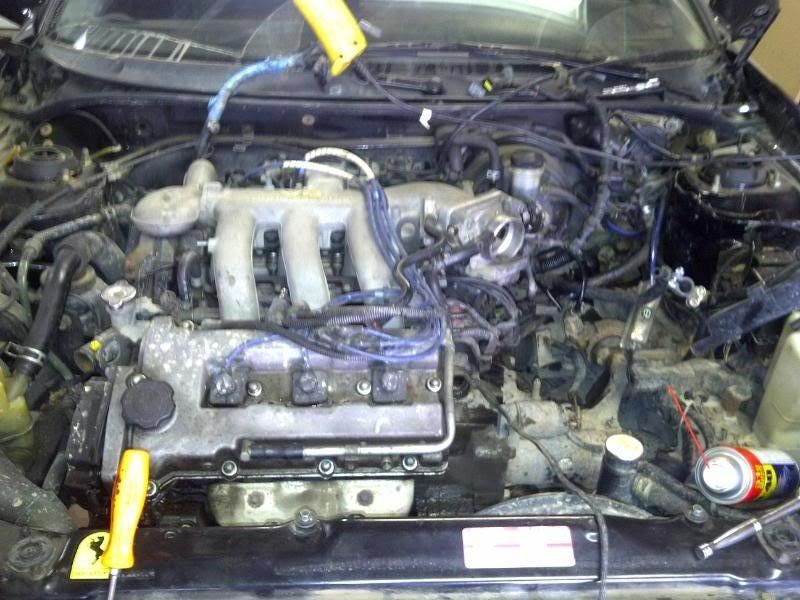 My love of my life:
KLZE 2.5L V6 24 Valve DOHC,
Displacement: 2497cc
Compression Ratio: 10.0:1
Valve Train: 24 Val
Horsepower: 200hp @ 6500rpm
Torque: 164 lb-ft @ 5500rpm
Redline: 8000rpm
21,823 km's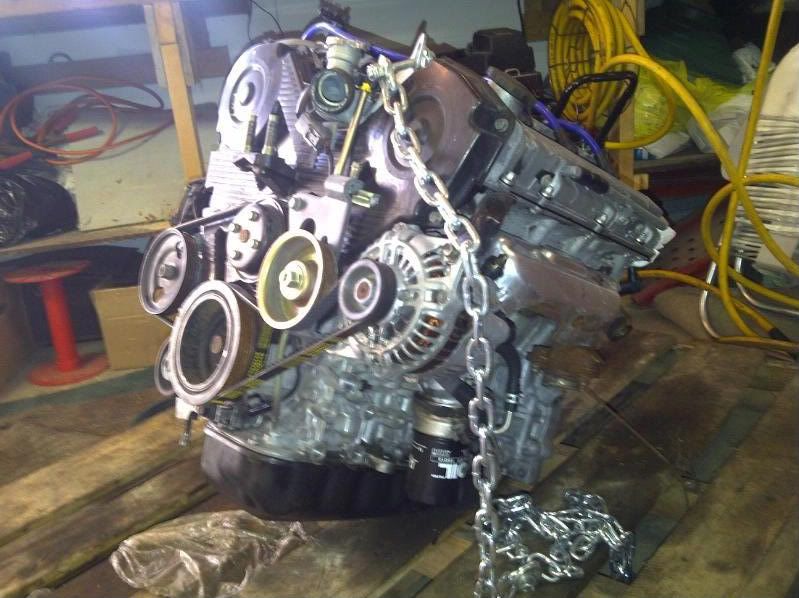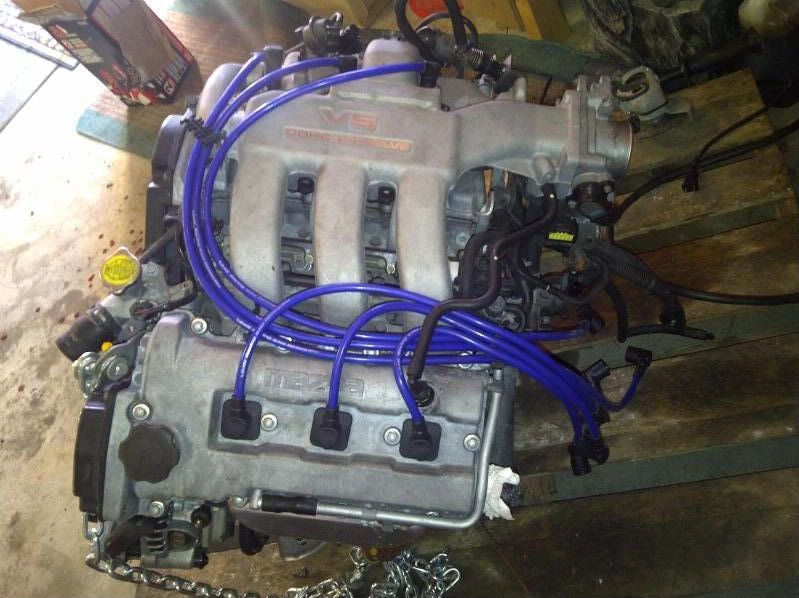 Not part of the swap, but its sorta hilarious. THE K8 IS BLEEDING! HAHAHA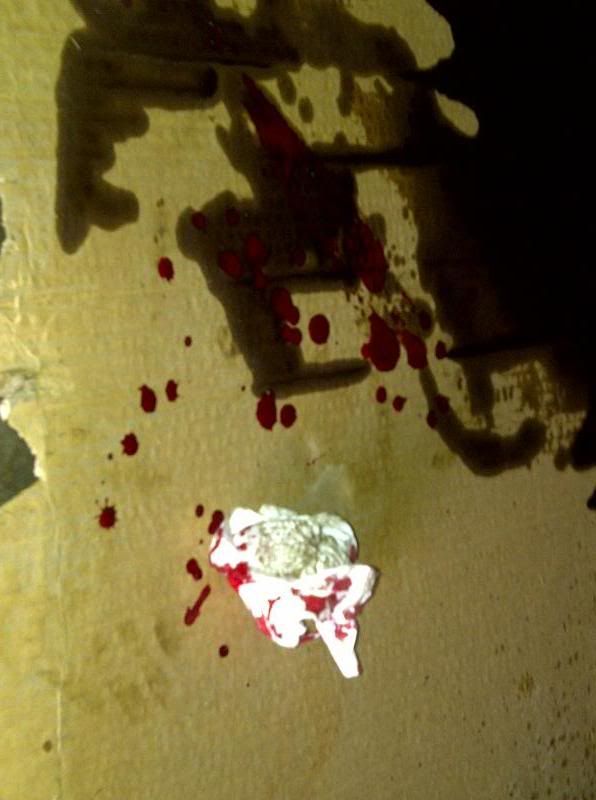 5/7/11
borrowed my little cousin's camera for a couple minutes but i was passed the valve covers being off stage. so no inside pictures till i change something. sorry everyone
but this is what i could get of the motor anyways.
just after i got the clutch+fly wheel on.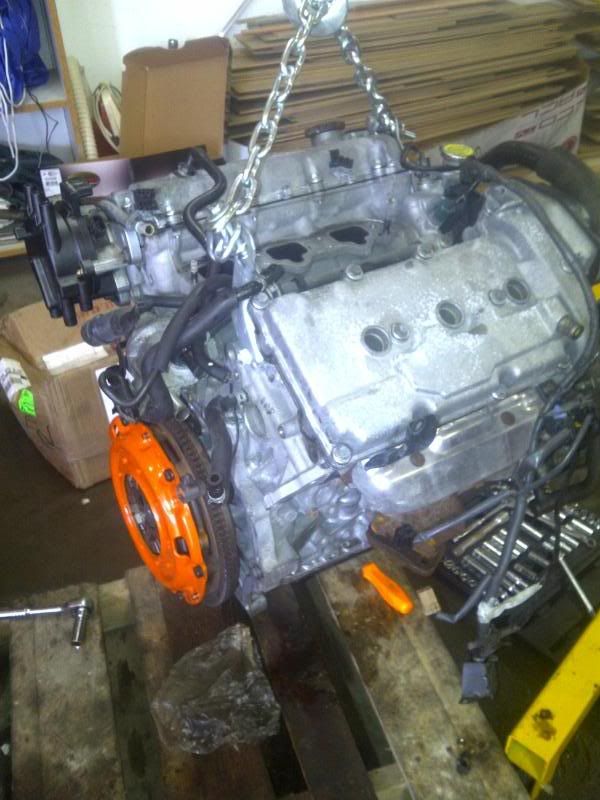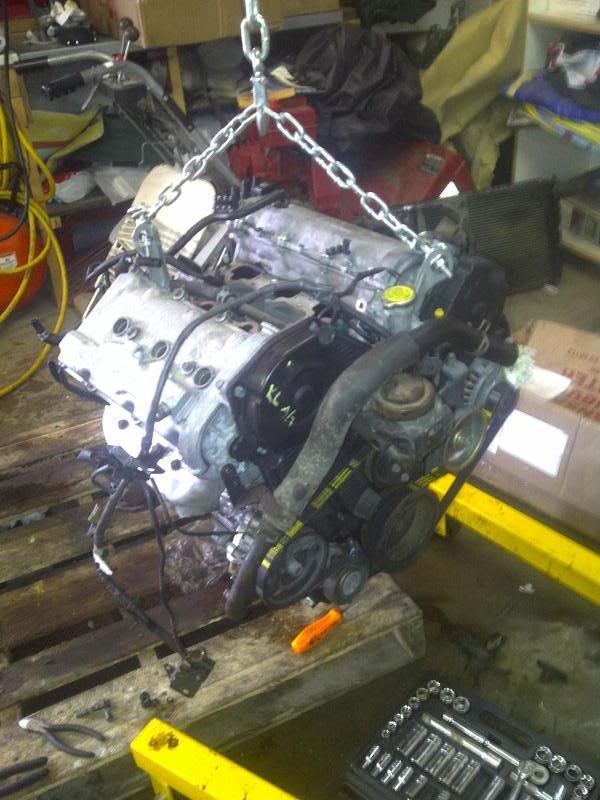 smelly tranny for a nice clean motor. i got lazy and didnt wanna clean it LOL..
Head codes and code on the block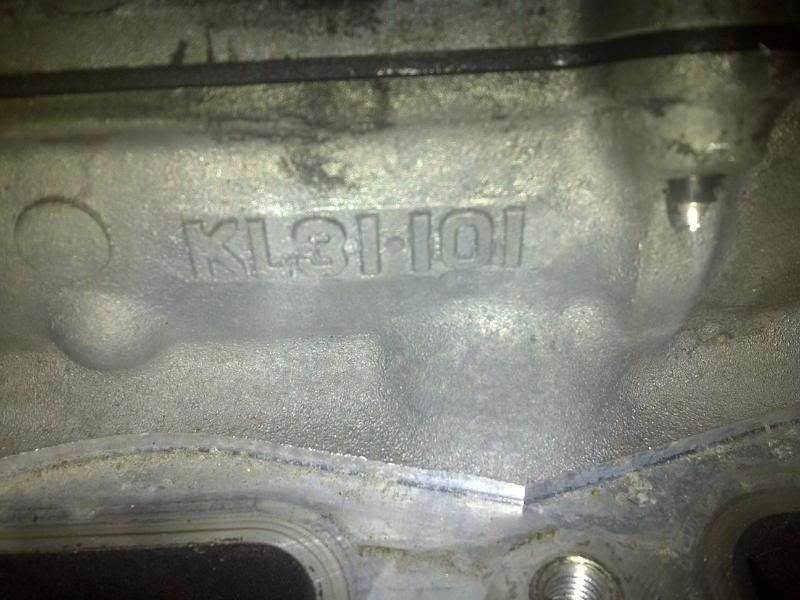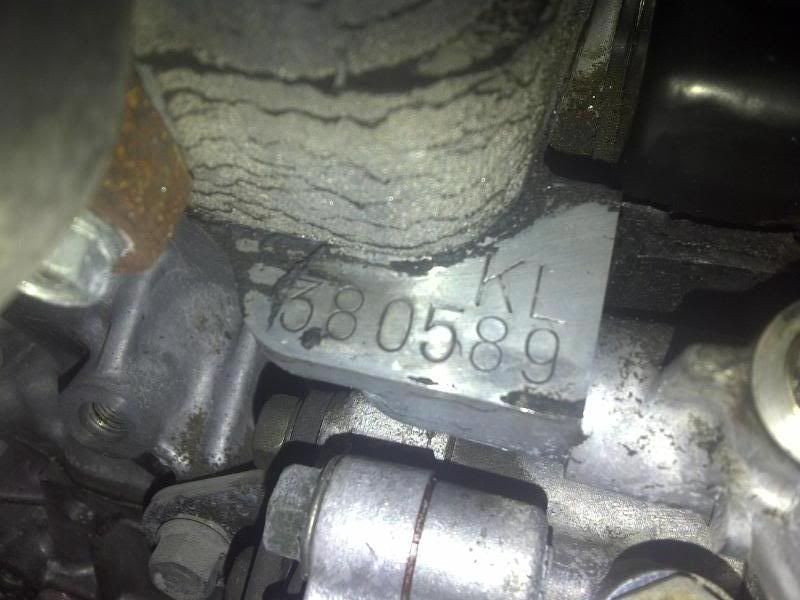 5/28/11. after swapping over everything and getting the motor/intake in. still in the process of hooking everything up.
The intake pipe was just me pissin around.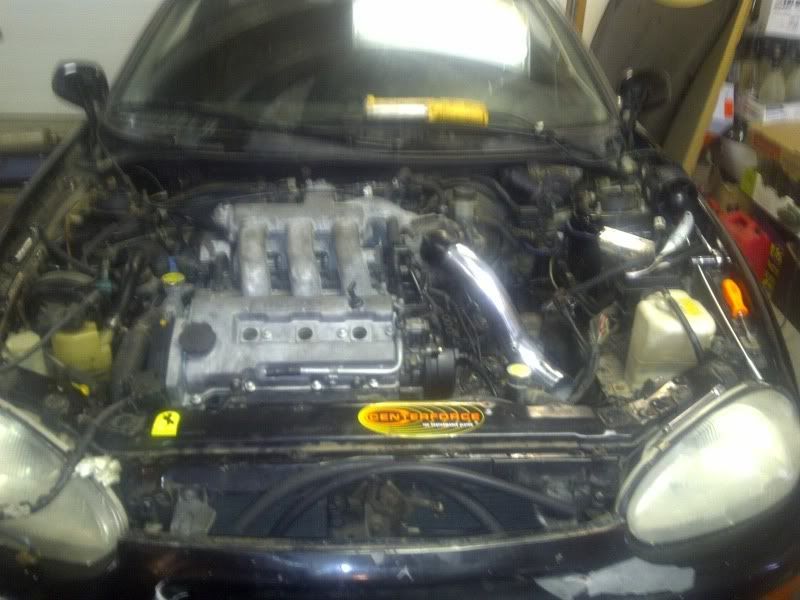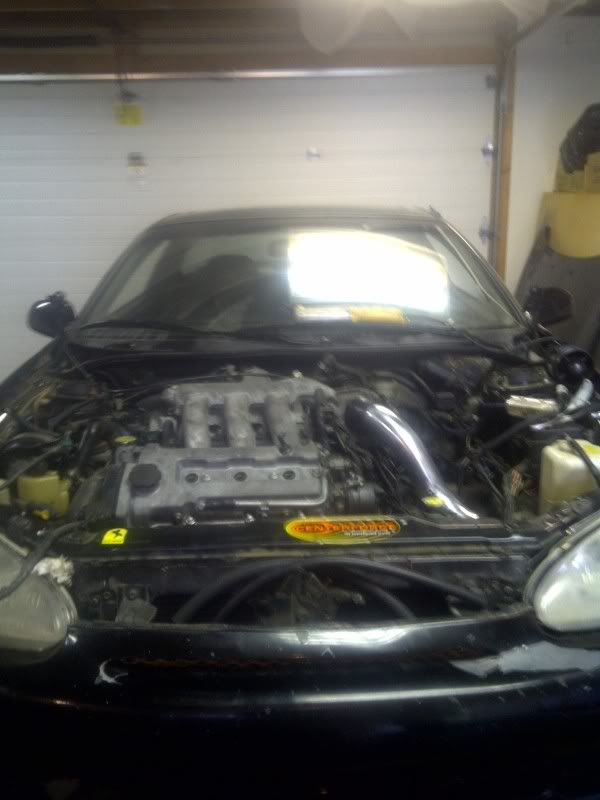 If u got any tips or suggestion's, I'm more then happy to hear em. Cya