Re: ProjectB10 - 1993 Eunos Presso HI-XS Special Edition
I have gone mad and cleaned up the shed.
The day time temperatures in the shed are about 30 Celcius (for a big part of the day) here at the minute.
However there is a method in my madness.
I need to complete the KLZE/transaxle swap on the red car ASAP. All the many bits and parts have been sitting around for about 4 years (eg complete KLZE long block build up completed in April 2015). It's just ridiculous and attracting a bit of pointed but polite comment. I need to get on with other stuff and this is all in the way now.
Part of that hurry up involves gathering up all the parts from around the shed so that I can put my hands to it all when I need. The swap job is an auto to manual swap as well as little upgrades along the way.
Anyway all of that big clean up revealed some long forgotten but interesting bits as I cleaned up the shelves, boxes and under the work benches (and also created my throw away scrap metal pile outside the door).
Spot the difference #1
Left hand (OEM description) exhaust manifold K8 and KL. It's the rear or firewall manifold for me. If you get this one wrong on a KL swap (no headers to existing exhaust pipe) then it's a might big PO.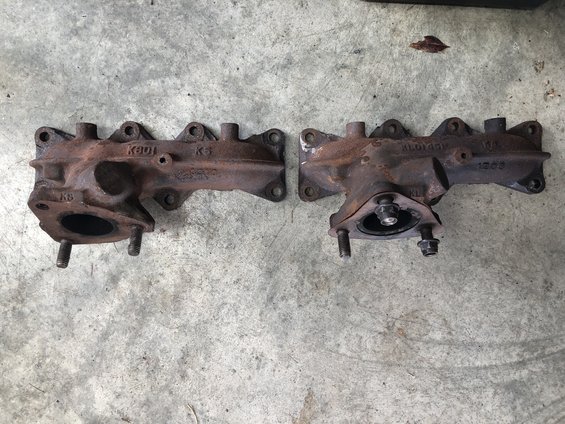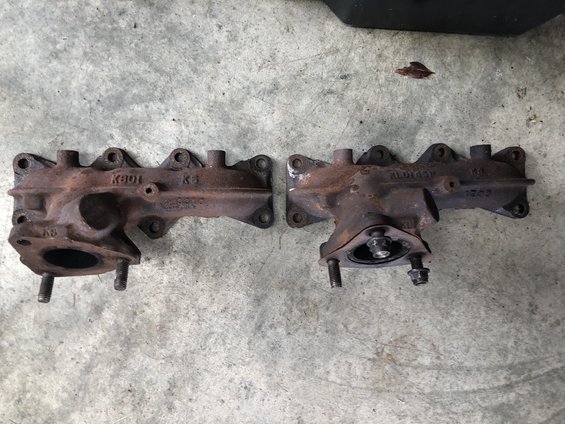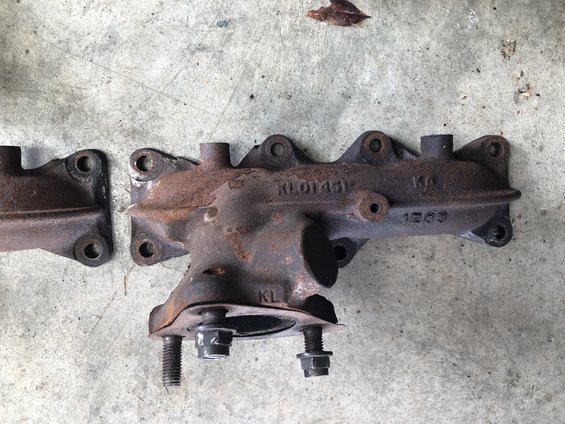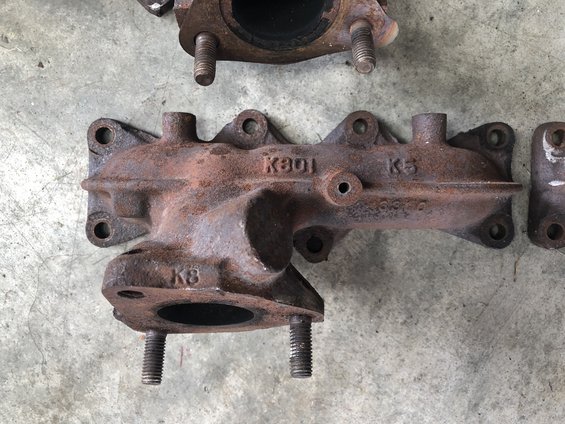 Spot the difference #2
Starter motors. The bigger and heavier one of the two is ex the K8. The smaller and lighter one is labelled KL36.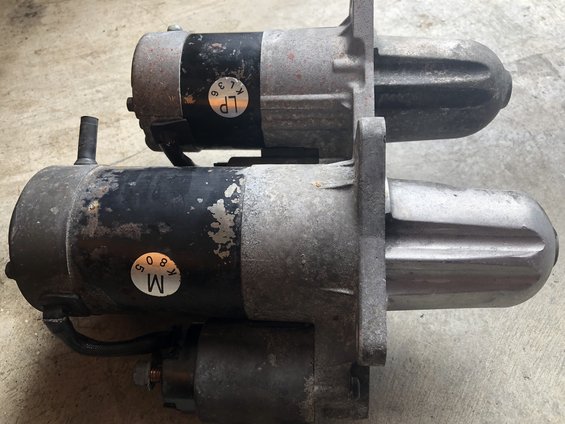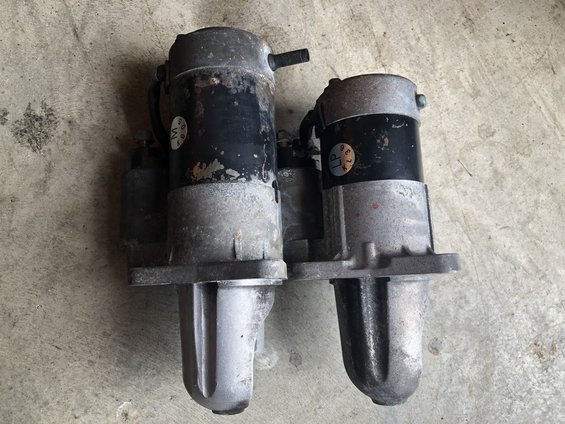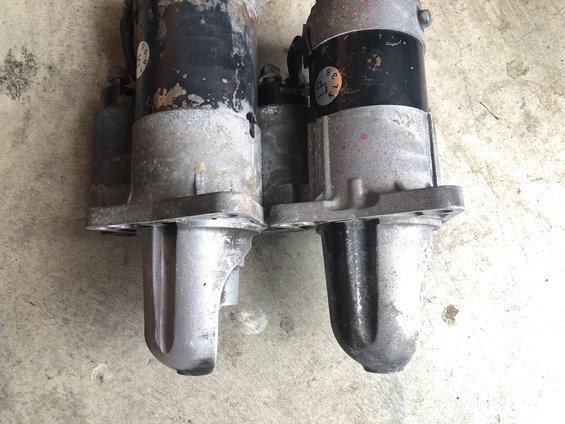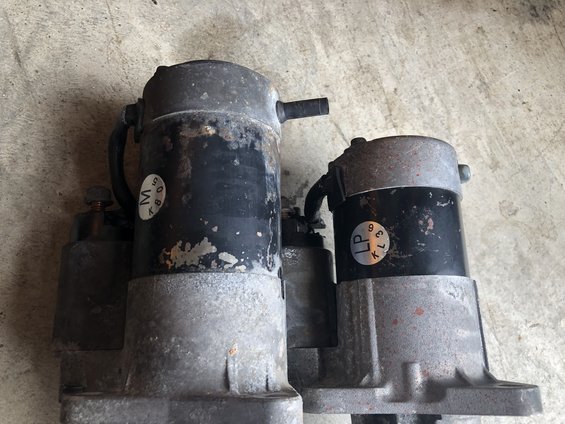 The weight measurement is very approximate as those scales are also going out the door. But the pictures do tell the "difference" story.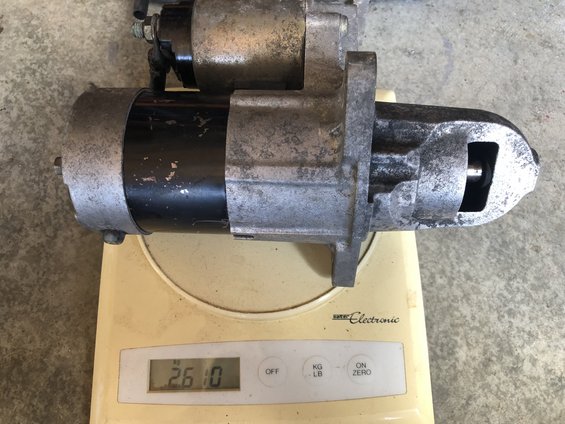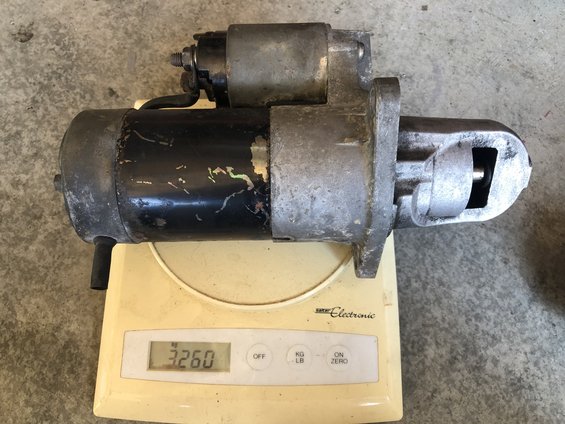 Spot the difference #3
Brake master cylinder. The red car will have the Subaru Legacy GT/ Gen 1 Impreza WRX brake calliper conversion (2 pot) fitted at the same time as the swap. Experience tells me that that the Presso 15/16ths master cylinder bore is adequate but not really optimal. So I will fit the 1inch master from the Mazda Millenia. The comparison photos show masters that I have pulled from the CB model Mazda Lantis with the KF-ZE engine.
Not much to see that is different externally save for the brake pipe connection points and the OEM 1 stamp on the side of the master in place of the 15/16 stamp.